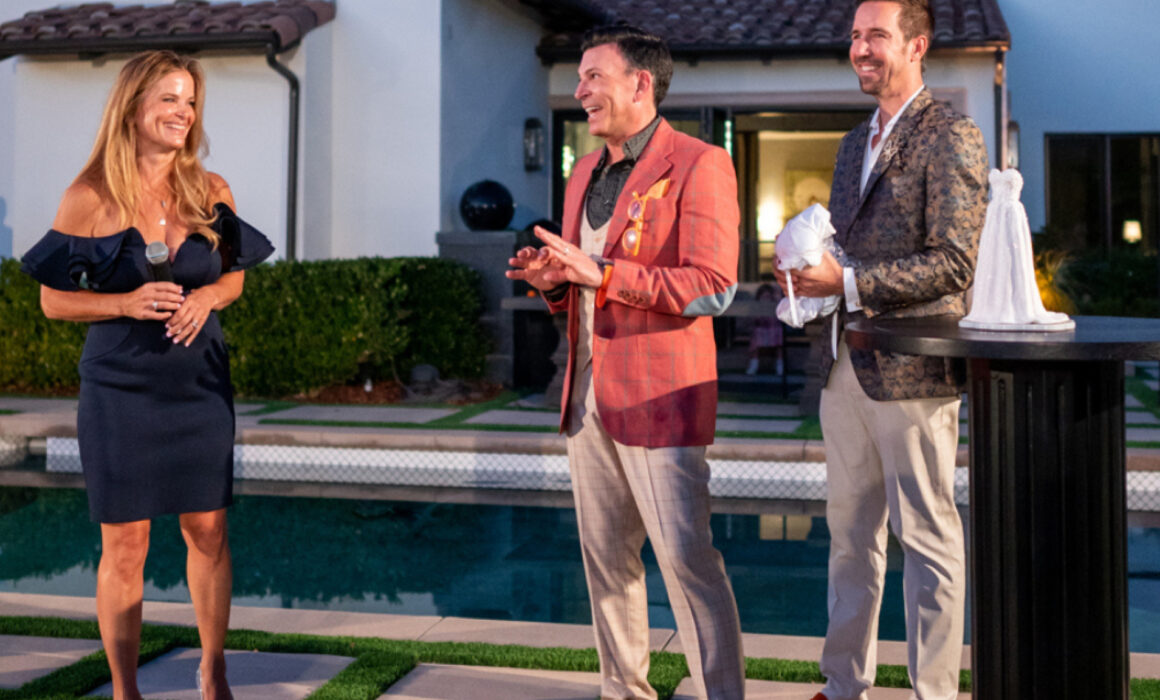 Sculptures from StoneWear Ceramics by Erika Hitchcock put the beauty of a unique wedding or formal gown on display. They commemorate weddings, anniversaries, sweet sixteens and other joyous occasions. More recently, two of our custom replicas served as the centerpiece of a tribute to an icon in the wedding planning industry and influential fashion designer, David Tutera.
One can't talk about upscale, fairytale nuptials without including David Tutera in the conversation. Weddings are quite literally in David's blood, as he is the third generation of his family involved in event planning and dress design, and a sought-after name among the A-list.
In his decades-long career, he has planned rock legend Elton John's wedding, celebrity parties for Jennifer Lopez and Matthew McConaughey, and after-parties for the Grammy Awards. David also hosted a popular television show, David Tutera's CELEBrations, which chronicled his work for his many clients in entertainment, sports, and politics. His bridal gowns reflect the unique beauty and personality of each woman for whom they are designed.
An Experience To Remember
Our involvement in this year's DTE, David Tutera Experience, an annual gathering of event professionals and entrepreneurs, was an exciting recommendation from a StoneWear Ceramics client.
Last year, in search of unique gift ideas, Linda Mitchell found our Instagram and commissioned a ceramic sculpture of her daughter-in-law's wedding gown. Linda loved the result so much, she hired us again to replicate her multi-generational mother of the bride gown in stone.
As the owner of Luxury Destination Travel, Linda is one of the primary resources responsible for organizing travel and accommodations for DTE and assisting David and Joey with all the fantastic event logistics. As one of our biggest fans, she connected us with David's husband, COO and Executive Producer of Dada Media, Joey Toth, to arrange for a special presentation at the 2022 event at the Four Seasons Hotel, Westlake Village, California.
Surprise And Celebration
I set straight to work sculpting our stoneware clay into the Cielo and Stella gown styles. In total, I spent over sixty hours over a period of three months on each sculpture. This included hand-sculpting each dress form, applying the textural elements that define each dress, and adding the hundreds of rhinestones, pearls, and glass beads that give each dress their alluring sparkle.
Once the sculptures were finished, though, their story was only beginning! We had to get these beauties to Los Angeles, safe and sound, for the presentation. The Cielo and Stella replicas each stood thirteen inches tall and twelve and a half inches wide. Rather than check them as baggage, we carried them with us on the flight across the country to ensure they stayed intact.
This year's David Tutera Experience, night one welcome event, was held at David and Joey's beautiful home, and the gown presentation was scheduled for the first night. It was an amazing evening with over seventy-five wedding planners, designers and other industry professionals in attendance. David and Joey were gracious hosts and provided a beautiful backdrop for their symposium, and we could not have asked for a better reaction when David was presented with our sculptures.
David was thrilled to see his two special designs immortalized in stone, in works of art he could proudly display in his home. He joked with us that he hoped these sculptures would remind his daughters that their dresses were still available to them to wear when they planned their own weddings. We loved to hear it, because a StoneWear Ceramics gown is meant to be a visible, third-dimensional memory of a special occasion. Wedding gowns are boxed and stored after the ceremony, but a StoneWear Ceramics replica stands in its place for all to admire.
We also had the opportunity to contribute to the gifts distributed during the event. All attendees received a custom StoneWear Ceramics 'from the heart' token, especially handmade for the event.
Overall, organizers spend nearly a year planning and executing the David Tutera Experience. We at StoneWear Ceramics by Erika Hitchcock were honored to have played a part in the 2022 experience, and we thank Linda Mitchell and Joey Toth for orchestrating the presentation of our gowns. Also, we thank David Tutera for his hospitality and for his stunning designs which inspired our artwork.