A Personalized Piece to Celebrate Your Love Story
Wedding anniversaries are special occasions, and the right gift can be the thing that makes them even more meaningful. If you're planning on celebrating your anniversary with the one you love, but you're at a loss for what to give her as a thoughtful gift, don't worry! Our ceramic wedding dress replicas are an unforgettable way to celebrate your special day. Whether it's your one-year anniversary or your 30th, a custom, StoneWear Ceramics piece is one of the most thoughtful wedding anniversary gifts for her – and the perfect way to show her how much she means to you.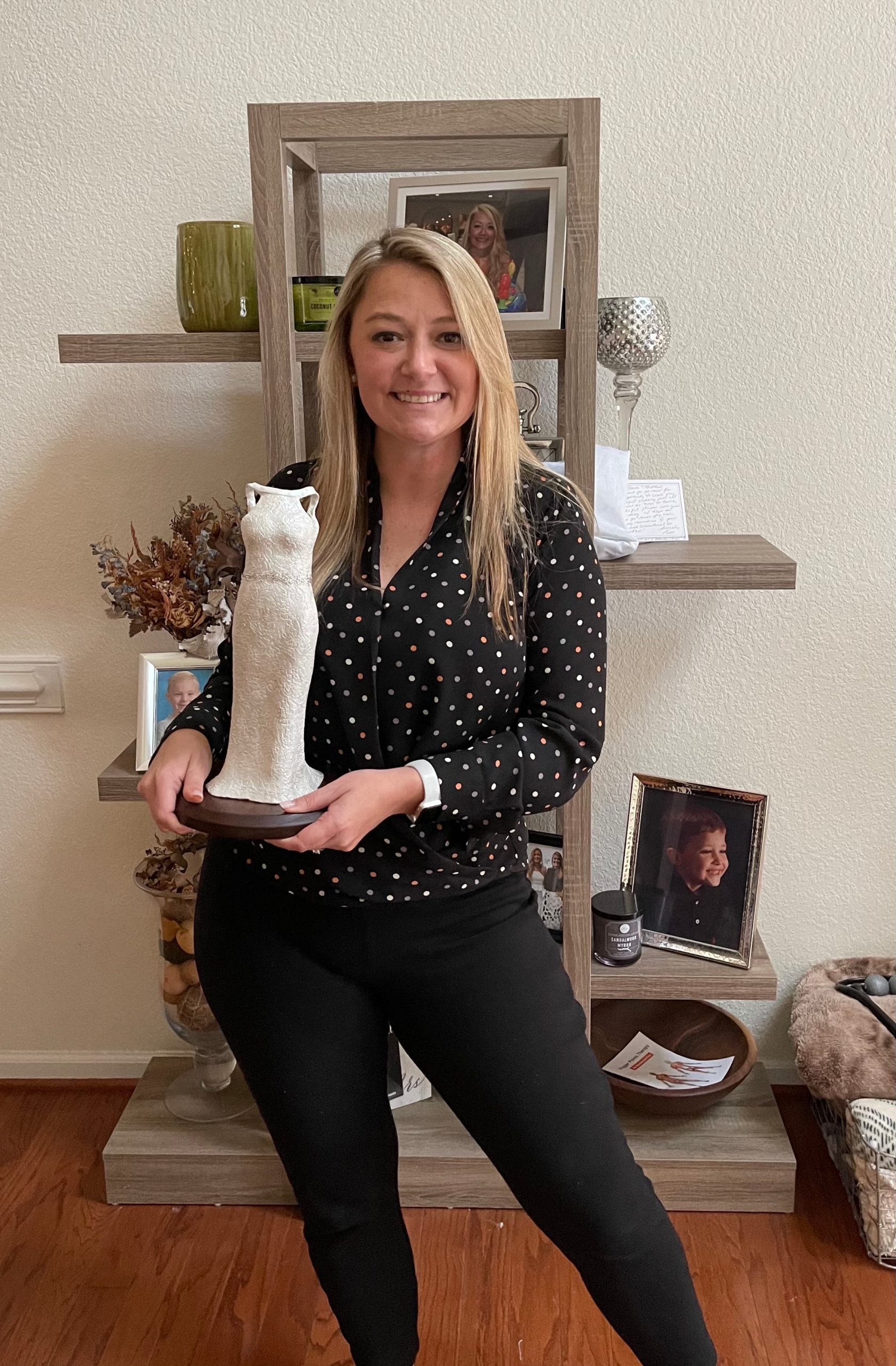 In many cases, a wedding dress and the memories it represents are just as important to her now as it was on your wedding day. StoneWear Ceramics' wedding dress replicas meticulously recreate every detail of her wedding gown, setting one of her most treasured moments in stone. With just a snapshot of her dress, StoneWear Ceramics creates a heirloom-quality, personalized piece that captures the spirit of your wedding day and celebrates the love story you both share. A StoneWear Ceramics custom sculpture is an amazing anniversary gift she will cherish.
I always find it extremely thoughtful when I hear from those seeking a StoneWear Ceramics wedding dress replica as an anniversary gift for their wife. The devotional stories they share are inspiring, and it's an absolute joy to help them celebrate with a personalized, one-of-a-kind gift and create a heartfelt gesture that will last a lifetime.
"For 15 years this young lady has pushed me to be the best I could possibly be."
A Heartfelt Gift Made to Last
A great anniversary gift is personalized, thoughtful ,and memorable, and a piece from StoneWear Ceramics does all of those things beautifully! Not only does StoneWear create custom wedding dress sculptures with meaning behind each design, but you can rest assured that your one-of-a-kind piece will look gorgeous sitting on display in your home as you enjoy more wonderful years together.
If you think about it, wedding anniversaries are really the foundations of the growth of families, friends, and communities. She will appreciate that our personalized ceramic pieces become family heirlooms worth passing down through generations.
"For years Kirsten's dress stayed sealed up in a box. Our daughters had not seen her dress, and honestly most pictures at the time were not close enough for them to appreciate just how awesome that day was and how beautiful their mom looked"
The Difference Is In The Details
There's something special about a gift made by hand. When you choose StoneWear Ceramics to create your next wedding anniversary gift, we personalize every piece we make. We work closely with you throughout the process and hand-craft your custom sculpture with love, care, and attention to detail. No two pieces are exactly alike — and your anniversary gift is completely unique.
"Her gown means so much to her. This gown found her."
Start Your StoneWear Design
"I consider myself one of the luckiest men in the world. I remember the day we got married like it was yesterday, and I knew this would be a wonderful way that we could capture all the feelings from our wedding day and enjoy them every time we see our sculpture."
A wedding dress replica from StoneWear Ceramics celebrates the love you share, which makes it one of the best, personalized wedding anniversary gifts you can give. If you're looking to do something special and one-of-a-kind, use our Order Form to start your StoneWear design! Once we receive your request, we'll send you an estimate and discuss the details of bringing your custom piece to life.