Thanks to the rise in remote work, office romances aren't so common these days. Recent statistics show that one in every ten couples who marry first met on the job. When it happens, as it did with Alli and Matthew, it's special… and definitely worthy of commemoration.
An Acquaintance Becomes A Friendship
Alli and Matthew's journey from co-workers to couple is a story of instant chemistry, delightful secrets, and a shared love for ancient cultures and traditions. When Alli approached us shortly before her first wedding anniversary, she wanted Erika Hitchock, founder of Stonewear Ceramics, to incorporate some of these elements into her ceramic gown commission.
Alli met her husband in 2019 at the University of Virginia Hospital in Charlottesville, where both had graduated from the nursing program. Their manager, noticing their compatibility as co-workers, asked them to jointly interview a candidate for a Patient Care Technician position. Afterward, the two decided to have a late breakfast together and ended up spending four hours at the restaurant getting to know each other better! Their casual work relationship strengthened as they began carpooling into work, but something else was happening.
A Friendship Becomes A Romance
Alli told us, "We started talking more and more… and started liking each other as more than friends, but we didn't know if the other person was just being nice." While Allie's feelings for Matthew developed, she was happy to know he felt the same way when he asked her out on a date. After an evening at a local trampoline park, Alli said, "We were hooked. We spent all our time together."
However, they still worked together and weren't certain if others at the hospital, especially their manager, would accept their romance. Alli and Matthew decided to keep their love a secret, and managed it for several months until they planned a trip together and co-workers figured out their coincidental requests for time off and travel plans. Thankfully, their manager okayed their relationship so long as it didn't interfere with their duties.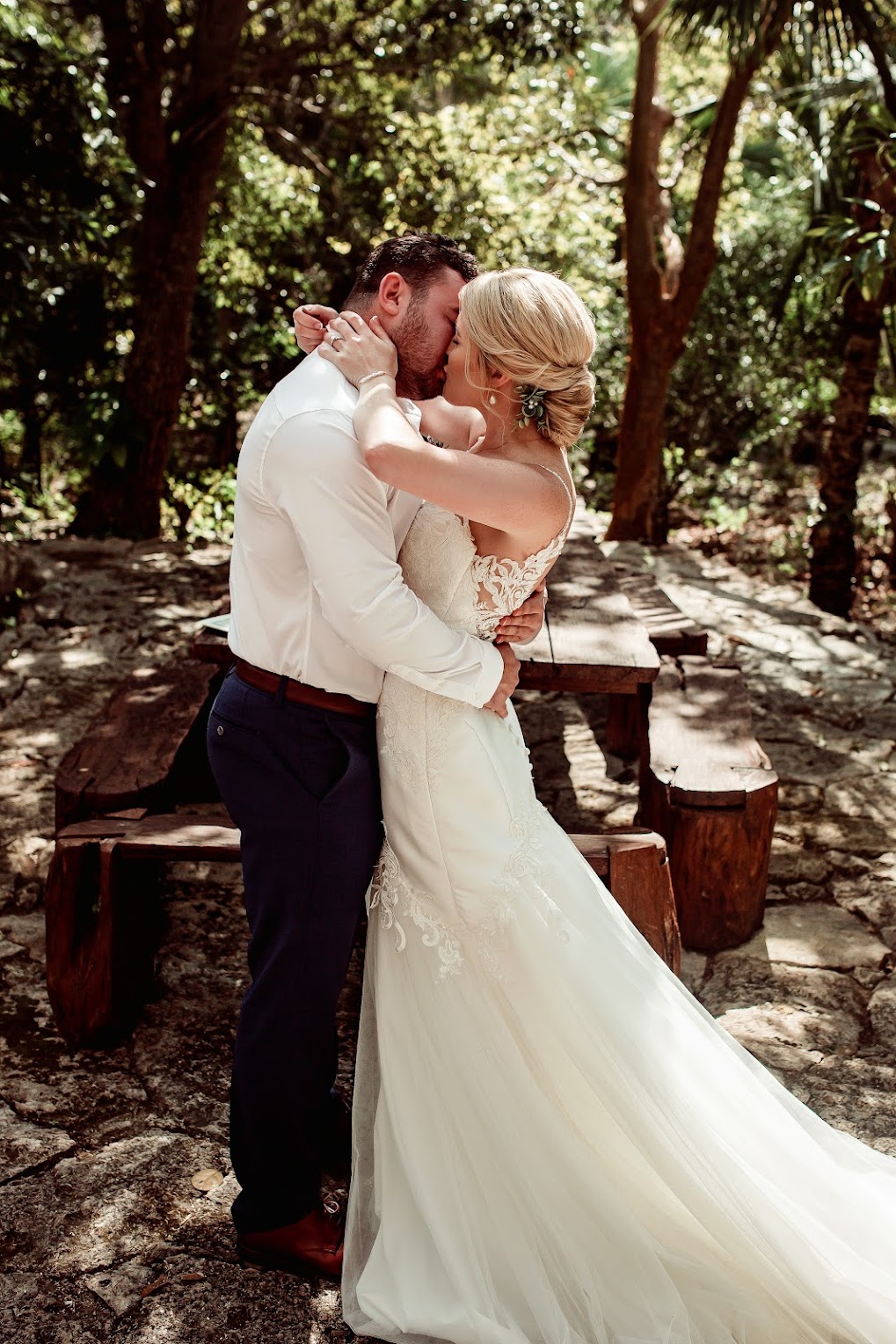 The ceremony began with the blowing of the Ritual Conch Shell horn, and copal incense was burned to purify the ceremony and cleanse it of negativity. Rose petals, signifying love from Mother Earth, the Cosmic Energy and the couple's families, were showered over Alli and Matthew. The presence of the corn and bean offerings in their shells symbolized prosperity and fertility.
"One of my favorite parts of the ceremony was when we ate the cacao bean with honey," Alli said. The shaman told them the significance of this tradition, how the dual flavors of the cacao–sweet and bitter–would represent the "for better and for worse" moments in their marriage.
"Even when things are bitter or hard, always remember the sweet part of your relationship. It's what makes the Cacao bean whole. You can't have the sweet part of it without the bitter, too," the shaman told them.
Following the ceremonies, Alli and Matthew spent the remainder of their stay in Mexico as their honeymoon. They explored the beaches and unique attractions, including a zipline tour that sent them through several rings of fire! The experience seemed to connect with their wedding ceremonies, symbolizing their dedication to remain in love through "trials of fire."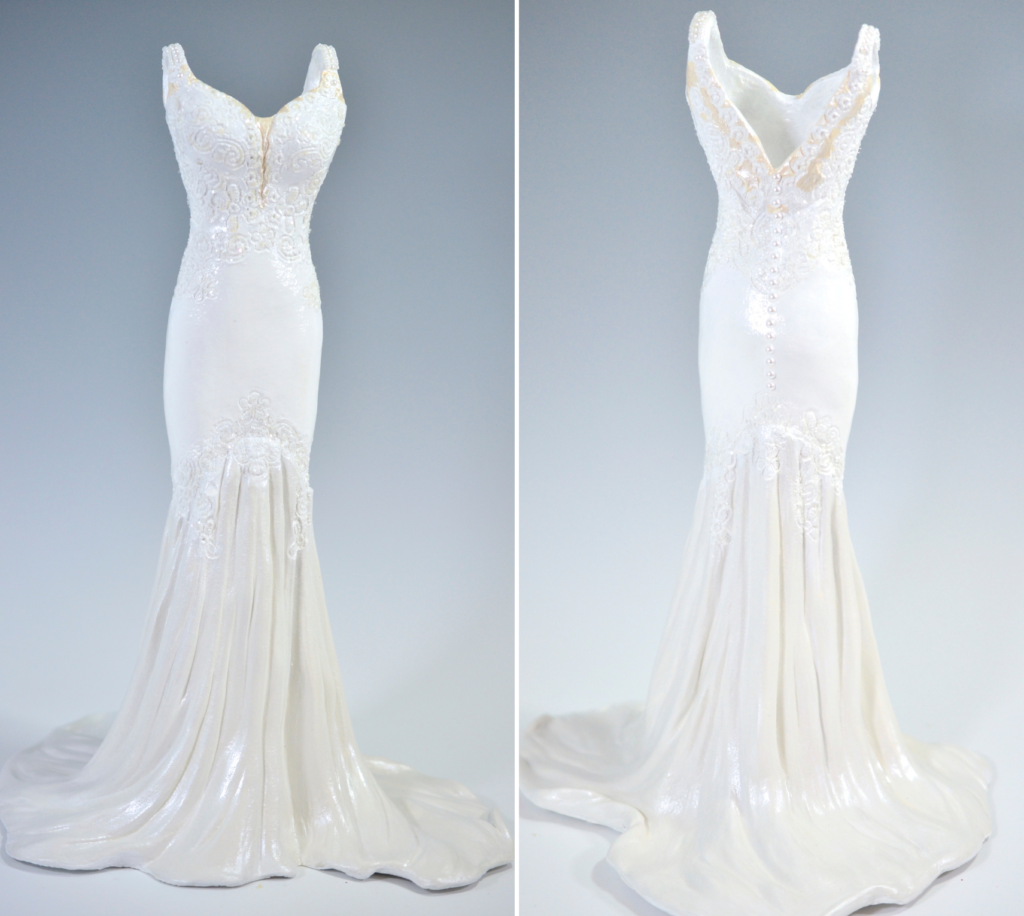 A Celebration Becomes Immortalized In Stone
As their first anniversary approached, Alli discovered Stonewear Ceramics and decided to have her gown cast in stone to commemorate her magical Mexican wedding and honeymoon. She asked Erika if it was possible to include the many symbols of the Mayan ceremony into the sculpture. Enchanted by Alli's story and eager for the challenge, Erika set to work.
The entire sculpture, consisting of the gown, the wooden base serving as the "raft," and the Mayan elements, took thirty hours to complete. Erika embellished Alli's mermaid-style gown with glass beads, pearls, and sequins. The same clay sculpted and fired for the dress was used to create the scattered red rose petals and the sea shells used to hold the cacao beans and corn offerings to the Gods.
When Erika delivered the finished gown sculpture, Alli was amazed by its beauty and attention to detail. "I was so excited to see it that I opened it immediately once I walked inside! I couldn't wait any longer," she told us. "When I unpacked it, I was speechless. It was so beautiful. It was perfect. The tiny details were amazing. And every time I look at it, I'm reminded of our special day."